Those are the two words i keep on using to describe everything in Chiang Mai.

((Edit))
((Blogging extra since IceCalvin's has to email some fashion-dunno-what-stuff for work in the middle of the night))
Remember my posts on KKB?
Antares is having his Raise The Roof campaign of his Bamboo Palace.
For real. Check it out!
***************
The last night before we left Bangkok, we rushed to meet Sonia, Calvin's friend who's based in the city as a fashion visual merchandiser. I think i got that right.
Not only did he want to meet up and chat, but we had to get his giant backpack she'd been storing for him as we direly needed it for the galore of fashion items we purchased.
Tearing ourselves away from Chatuchak, we met her at the Tower Records in Playground.
I didn't know what to expect, except that IceCalvin mentioned before he thinks we'd get along.
"Does she speak English?" i asked.
"Of course!"
And she did.
Besides fluent Thai, she spoke to us in perfect English with a European lilt due to her mixed parentage.
Sonia introduced us to her friend Kenny, who took us to Fuzio where he DJ-ed as we had Italian (our first non-Thai meal which was truthfully a welcome change).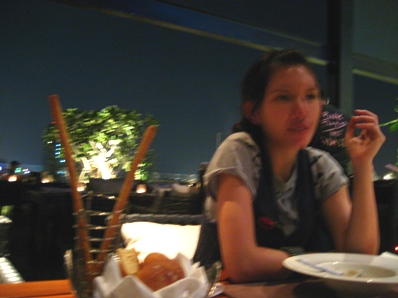 Bad picture of Sonia
After Fuzio, Sonia took us to Vanilla Garden.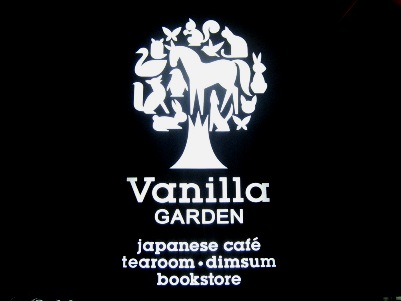 Super cute logo.
There's a book store housing heaps of art + design books, not unlike Kinokuniya.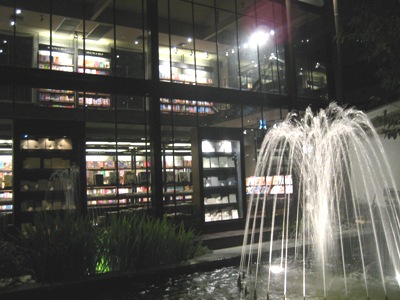 Pored through a Muji book and really wanted to go to Muji the next day at Zen… dammit, why won't someone bring Muji to KL!!!
I could see why IceCalvin thought we'd get along, she's a party girl!
We're trying to get her to come to KL and make her a rock star.
Sonia. If you're reading this. COME TO KL.

*
Back to the topic of Chiang Mai, it was pretty chilly when we arrived and got colder at night.
IceCalvin and i shivered on the bike cos we forgot our hoodies when we drove around past sundown.
He hates the cold but i'm adoring every second of it!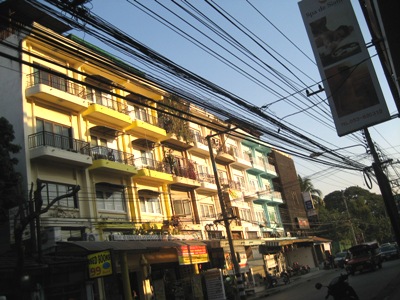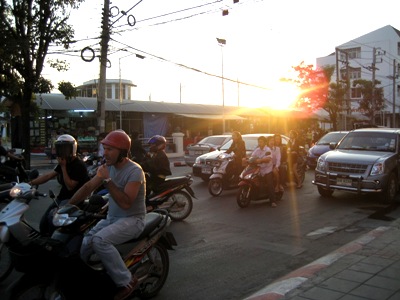 We met with Mu, who's Thai, and her husband Philip. They took us out for dinner by the riverside last night.
Mu owns a travel agency and an internet cafe, which i'm blogging from right now as IceCalvin's playing with their 1-year-old baby daughter, Melissa.
She's too cute to be true and she's a got a little cough right now so she's drooling over everything.
Philip, who's German, speaks fluent English with a Thai+German accent which is strange to my ears but interesting in itself. He's super funny and sarcastic, and can't stop telling stories which i laughed out loud at over dinner.
Okay, even as i'm typing this he's joking whether he can kick his daughter -_-
This morning i slept in till 10 am. Yes. Sleeping till 10 am is considered 'sleeping in' to IceCalvin cos he's a morning person whereas i'm the complete opposite.
I feel bad that he has to potter around till i rouse, so i try (read: suffer) to wake up as early as i'm able to after sleeping at 4 am.
It was cold cold cold when i stepped out the front door to 'try' to wake up.
And the bed was so inviting in the cold! So i jumped back under the covers and slept somemore :p
While i was still sleeping, IceCalvin rode around and found a super sweet gallery and restaurant – Art Gallery.
That's the beauty of Chiang Mai… there are tons of amazing guest houses and beautifully-designed cafes here, some with such quaint charm incomparable to that of KL.
Plus all the greenery around!
I'm so in love with this place.
He rushed back to get my ass over there to have brekkie.
We poked our nose around the place, snapping pictures like we'd never seen a garden in our lives.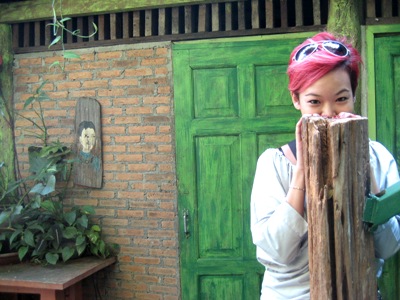 This is my muka baru bangun, taken with my self-timer.
Calvin was somewhere else in the garden at the time so i layaned diri.
It was divine to bask in the cool morning air with happy sunshine warming you up while having a cup of coffee!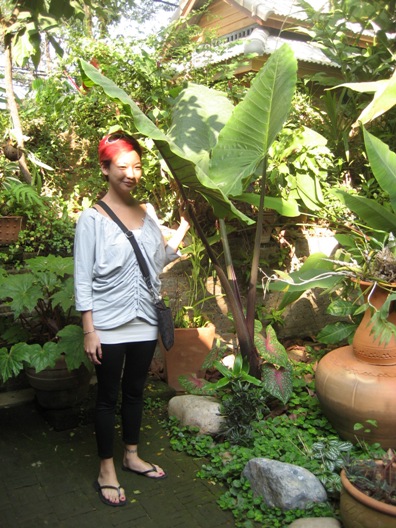 I found a huge leaf, the kind fairies find shelter under, and made him take a picture.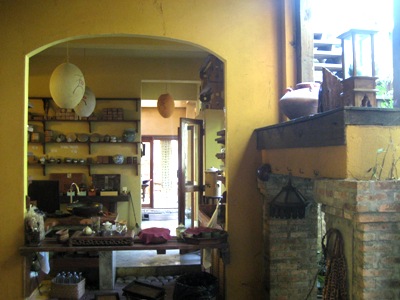 There are lots of cats everywhere in Chiang Mai. Not the pariah type, but the big tabby ones with soft, thick fur.
There are three where we're staying now, and there was one at Art Gallery.
Tabby cat was torturing a moth till its death.
I tried saving it (the moth) but it struggled between my fingers, tearing its wings even more. Well, i tried.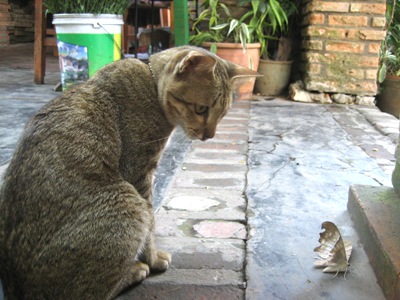 Poor mite totally died in the end at the paws of killer tabby.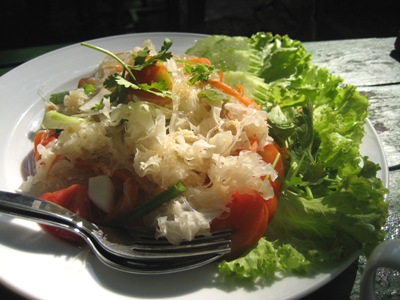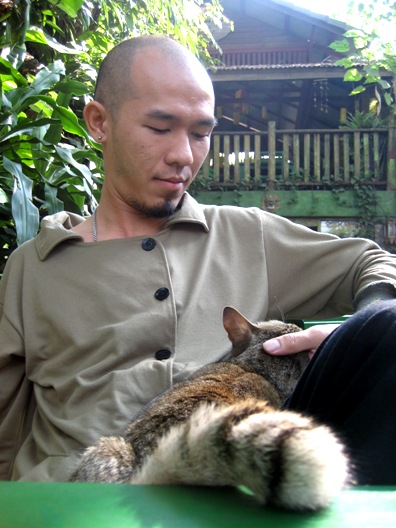 We had glass noodles for breakfast, so fresh! So healthy!
Yeah man, i've been really healthy in Thailand – barely been drinking (alcohol), walking a lot, getting alot of sun, waking up earlier, eating healthy food with lots of salads.
An elderly white man was walking around smiling, so i smiled back.
We started talking and it turns out he did the interior and landscaping of the gardens, which are gorgeous.
Hailing from California, Vincent is his name, he spoke about how he used to landscape eleven gardens in one estate for the 7th richest woman in the world.
Then he retired but continued his passion of restoring old furniture, interior design and landscaping.
Look! He built all that below himself.
He also showed us his huge personal bathroom (they live at the back) he designed and built.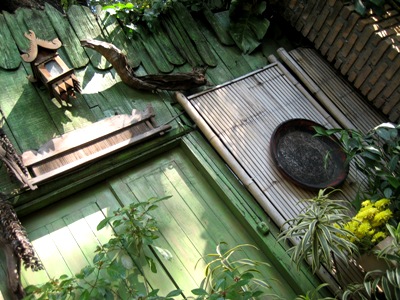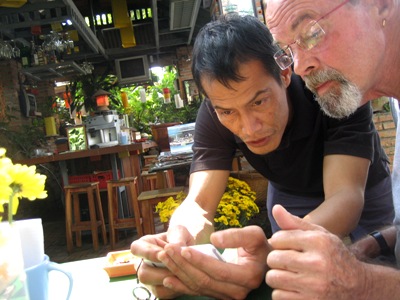 On the left is Sun, the owner of the gallery and restaurant.
His full name is Happy Sun, i kid you not.
It's even on his name card.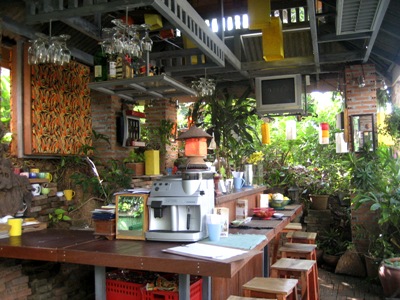 Above is the bar they just built themselves.
It took a week, they told us.
A week!, thought i.
I started comparing what i could build in a week.
Probably… a cupboard. A tiny cupboard.
Killer tabby jumped unto Calvin's lap and manja-ed there for at least a half hour.
He's not really good at the camera, posing with one eye closed.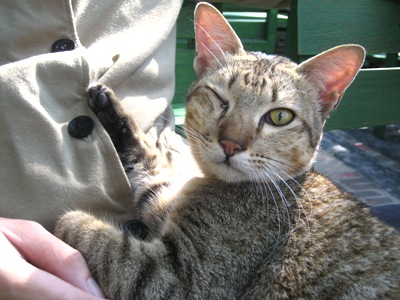 Better then me la. Both eyes closed -_-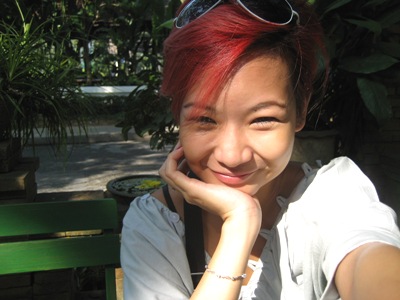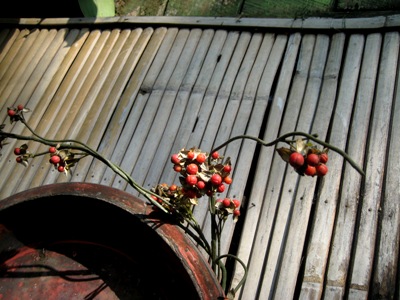 Then we walked around town a bit, to see what's here and there.
It's just so happifying!
Walking jauntily in the sun, no crowd, friendly smiley people, listening to old Sheryl Crow tracks on my iPod…
It makes me feel like the most contented person alive.
Oh, save for one thing missing :p