Drove DatinTini to head office 'cos her car's in the workshop.
"Oh my god. Your car is like zoo negara."
Eh. Want people to fetch you, be a bit more polite can.

Anyway i have no choice but to remove all my shoes, books, CDs and leftover lap sap from the car tomorrow cos i have to return it to the company.
That will, no doubt, take some time.
Chucked her off, and ran to catch up with GarfieldChak in Delicious 1U.
I have to stop patronizing Delicious and La Bod so much.
We exchanged what's been happening with us in the past couple of months (plus the fellow doesn't read my blog so all the better) and i told him about the tak-jadi snatch theft incident.
"I never bothered going for neighbourhood watch meetings before, but i actually went the other day," he said, before revealing that the section between SMDJ and Atria (roughly 200 houses) encountered eight robberies in the span of 12 days (Jan 14-26).
"Come on, i'm a big guy and even *i'm* scared nowadays okay."
Chak's big enough that when he dressed up as Frankenstein last Halloween, it was more then perfect.
I told him how JappyCalvin's car got broken into a couple of weeks ago and they nicked his GPS system and other stuff.
"Last time everyone would know someone who kena-ed something like this. Now, it would be everyone has kena-ed something."
We changed topic after that, how his emceeing on NYE at 1U went (he emcees as well now. contact him at chakster@gmail.com) with FlyFM's Basil, how the other business is going, my current lifestyle of traveling (Chak: "Ley mou cho kung ar?" I could understand that!), and other stuff
He told me how someone we know is planning to get married.

Me: What! Wow. So many engagements suddenly… Man, everyone's either getting married or robbed these days.
Chak: Hahaha!
***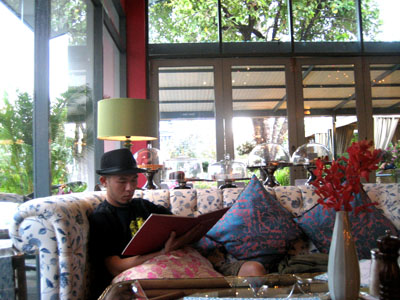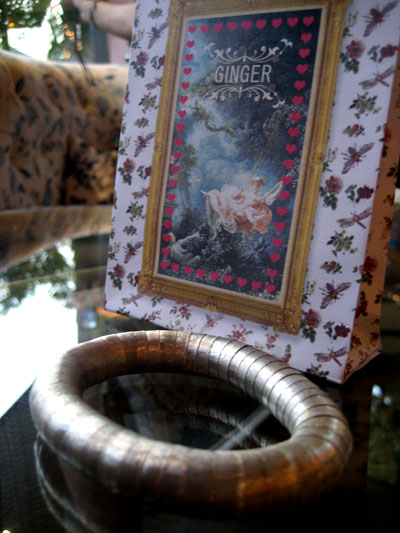 A stretchable bracelet (its beads are like tiny silver cups strung together) from Ginger boutique in Chiang Mai i've been wearing every day since i got back.
Super cool + unique.
IceCalvin said local designer Daniel Chong has the same thing for sale in the form of necklaces.