and there's no more space in my suitcase.
To be fair, it isn't an extraordinarily large one.
IceCalvin's suitcase is twice the size of mine, i jested should we have no more money to stay anywhere, i could sleep in it with the lid closed.
We're shifting guesthouse today 'cos some drunk French dudes made a huge racket next door to us at 4am.
They were pounding on their door to wake their friend up inside whom had fallen asleep.
It was like, BANG BANG BANG (followed by shouting in French) and for that to wake me up (cos i'm a deep sleeper) is a feat, for real.
I couldn't tahan and opened my door to confront them with sleepy slit eyes.
"Can you please be more quiet?"
"Sorry... sorry... but our friend cannot open the door... and we want to sleep!"
"Well. *I* want to sleep too! -_-"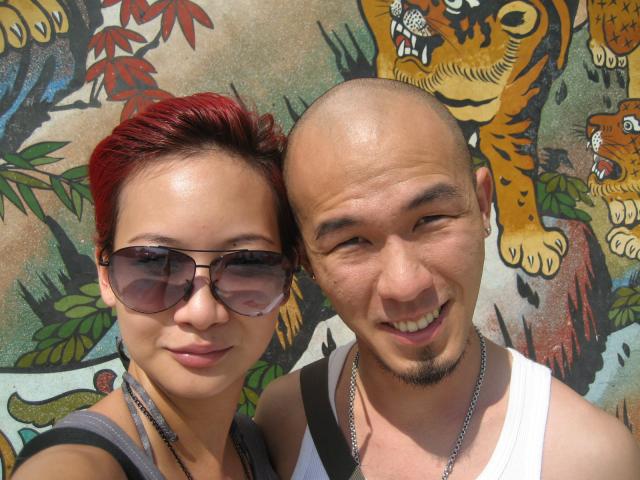 This was taken yesterday in front of a temple near the floating market cos Cal and i didn't wanna watch the cobra show.
Come on. We're from Asia. We've seen enough snakes la :p
Okay gotta run.
Nobody wastes time online on a weekend in Bangkok when Chatuchak is open!
*runs off to shop somemore*