advertorial
The day AlcoJason came back for hols, i dropped everything and scrambled to meet the fellow to catch up.
We had a slight drama at first cos he was going to 1U to get a new hp for a prepaid Msian line, and in order to find him there he asked me to sms his UK line.
I couldn't get his UK line.

At all.
After walking around the new wing in 1U looking for him like a donkey for an hour, i gave up and went to grab a pie and latte at Coffeebean whilst waiting for him to call me when he got his line up instead.
Little did i know that *my* phone was having connection problems and he couldn't get through as well, all i got was a worried-sounding voicemail from him saying his phone with the UK line crashed all of a sudden.
What's with our phone karma!?
Fellow tried calling me again from a public phone and we managed to hook up. Finally.
It was a Monday night and i wasn't sure what was going on in town, so we decided to drink at TTDI Plaza.
I wrote a review on Bamboo in KLue sometime this year, so i have the info in my files:

Address C-1-5/6 TTDI Plaza, Jalan Wan Kadir, Taman Tun Dr. Ismail, 60 000 Kuala Lumpur
Website www.bamboo9.com.my
Tel 03 – 7727 9511 or Aileen @ 019 239 5817
Open 6pm – 3am everyday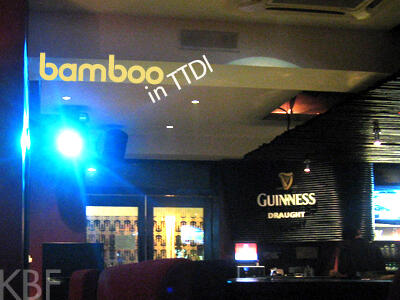 AlcoJason and i have always had drinks when we catch up in recent years.
But it never included Guinness Draught before.
I figure in the time we haven't seen each other, our drinking preferences have changed dramatically if not somewhat.
I automatically went, "Guinness draught please," to the waiter.
"Ha? Guinness? I didn't know you like Guinness draught!" blurted AlcoJason.
"You have no idea dude… i drink it like almost every day now."
"It's okay, i like Guinness draught too!"
"… Guinness draught la then."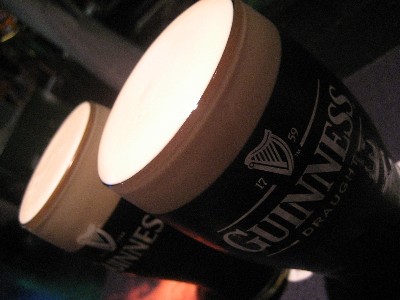 (walau i cannot do this wei. editing pics of the foam makes me wanna run out to drink it now -_-)
JappyCalvin came to join us, and it was us three, like old times

Old times: Kuantan 1st Edition, Kuantan 2nd Edition, NYE 2005, Barcode Days, Poppy Days, Other Poppy Days, (okay i can't link them all, there're too many!)
Wow. I went all nostalgic reading how we used to party. I think now, we party harder and (maybe) a bit smarter?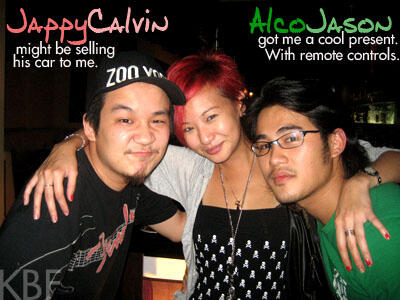 Then Gary called, asking me where's happening that night cos his old friend was back from London too.
Dude, it's Monday night la… i don't know!
Funny thing is, everytime someone wants to party or drink, they'll call me -_-
So i asked him to join us in Taman Tun.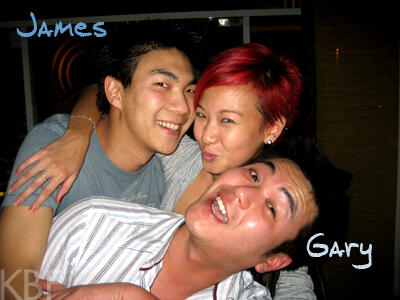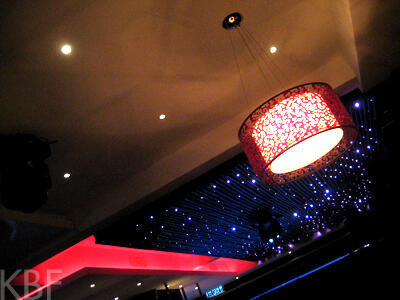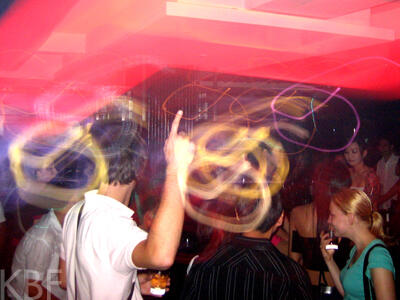 And then -_- i got another call from a slightly drunk someone…
So again, i just went, "Come join us la!"
And he came.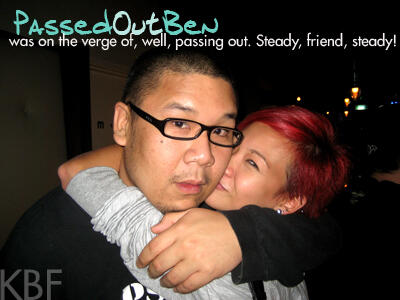 Check out the trying-to-maintain eyes.
AlcoJason tried to make me drink at the same rate as him, one for one.
After three Guinness Draughts on my part, "Jason… i tak larat already okay, you're drinking too fast plus i've cut down my drinking!"
"YEAH RIGHT!"

"Yes i HAVE!"
Still…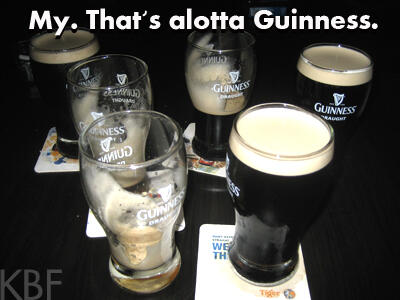 I remember all the Guinness promotions they were having earlier this year, like buy one pint, get half free; or buy (i forgot) a certain number of pints, get a lighter free.
Yeah. It's kinda obvious how much i drink Guinness Draught.
>.<
From now till end of December, buy three pints, and get a Guinness towel free.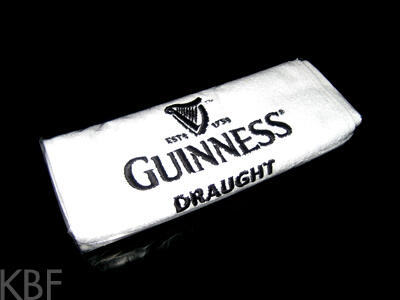 I think at the rate we go, we can have enough towels to provide a gym.
Related posts:
*Got milk?*
*Blacktronica* – Kevin KinkyPug Yeoh