Today, i had the freedom to wake up at WHATEVER time i wanted… do you know how rare that is?!
To wake up when you want – without contemplation of work, a monkey on your back regarding something you have to do, rushing to get ready to see a friend you have to meet, worrying whether the person you're waking up with wants to get up already, laundry to throw into the machine, chores you have to get done.
Today, i pulled a Kevin
And it FELT SO GOOD.
I buried my face into my pillow, its smell, why, smelling of me! and continued snoozing till well past noon.
Absolutely glorious.
Bliss.
Was in a 100% contented mood when i woke up (finally).
Threw my bedsheets into the washing machine, since it was so sunny and all.
Then when it was done, it started to storm.
-_-
Met up with AshleyTheMonkey + PassedOutBen and we did something like the old times: simply yam-chaed all afternoon.
Last night was fab. I got a call from an unknown number:
"Hey, what're you doing?!" – unknown person
"… Working. At home. Who's this?"
"You don't know who this is? So what you doing later?!"
Then i recognised the voice.
AlcoJason.
I TOTALLY forgot he was coming back yesterday!!!
Needless to say, i dropped EVERYTHING i had on my agenda and ran off to spend time with him.
I've been a prisoner of my own emotions. A double-edged sword. With extreme circumstances that line itself on either sharpened end. I hate the feeling, yet i drown in it with joy.
I can't wait to go traveling in January again. The euphoria of being carefree and submerging myself in a world that doesn't involve deadlines, coordinated fashion and social politics is… welcoming and a world in which i can see myself in.
Again. I should have been born in the 60s -_-
This is me being give-no-fuck on Mount Batur: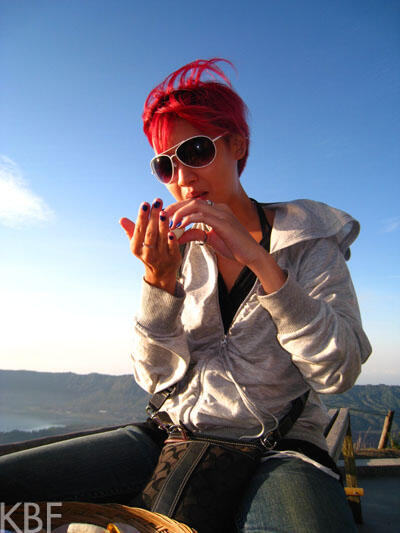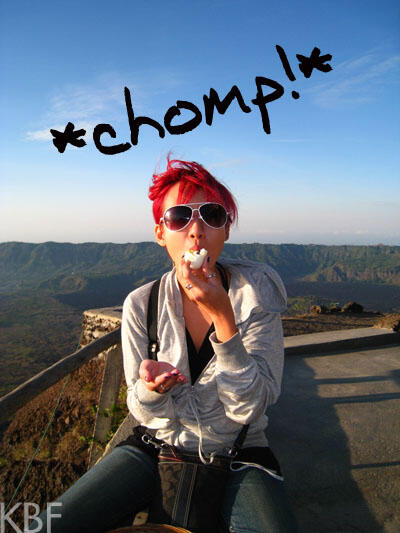 Because boiled eggs just taste so much better in higher altitude.
Okay. Time to see MaryBerry now! *scampers off*