Dammit because i wanted to blog abit but i have to run to get ready, get lost driving drive to Valencia to pick AuntGerry up and then to Selangor Club… which i *also* don't know the way to.
Die.
Here's a pic of one of the lovely gourmet burgers at Daily Grind, which i went to last week with IceCalvin.
I've been on burger frenzy of late, gorging on burgers from BK, Carl's Junior, La Bodega, Jarrod & Rawlins, and Relish to the latest burger outlet addition in town – The Daily Grind – located in Bangsar Village, just next to Starbucks.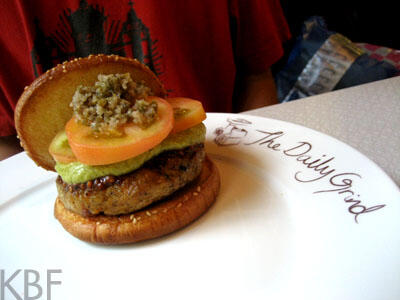 Chermoula Avocado Madness, RM32
Chicken patty with smooth avocado cream covered in hot salsa
I had a chicken burger too (with Norwegian smoked salmon, cheese sauce + extra pickled onions), don't know why i felt like it though, cos in heart, i'm a medium rare beef eater *rowr!*
Okay i cannot crap, really gotta run, ta!