I fell ill last week (and also the week before that -_-) and got GarfieldChak to take me out to lunch.
Hopping out, i was decked in super happy coloured clothes!
"Oh my god, why are you dressed like that? You look like a cartoon," exclaimed GarfieldChak.
My reasoning was that i felt like shit, and in order to combat feeling like that, you dress in happy colours to maybe, affect your aura to feel the same too.
No, i don't need a therapist's number.
No, you're not the first to call me delusional.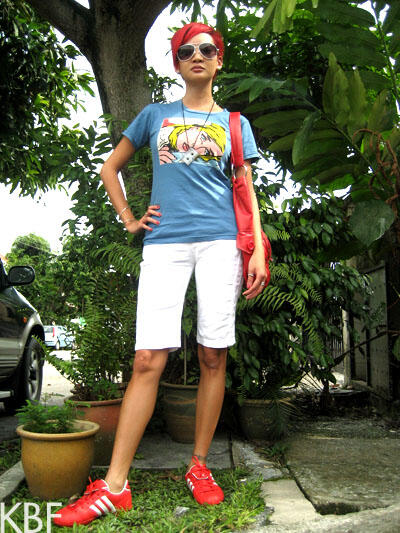 White Aviators, Aldo; Pop Art T, Bird Store in Bangsar (but i got it for a steal at the Lap Sale Junk Sale!); Red Tote, Topshop; White Cropped Pants, Zara; Red Shoes (which i rarely wear out cos i'm afraid someone might step on them -_-), Y3, purchased in Jakarta.
I'm not a believer in weighing scales as i think you should just judge your body from how your clothes look on you and how fit you are, but i admit i got a huge shock when i weighed myself yesterday.
40kg. 0_o
I've lost 5kg in two months.
No wonder my doctor gave me vitamins to boost my decreasing appetite.