One day before Lap Sap (i forgot which Lap Sap), AdamPoserPan said he'd join us partying.
I reminded him to pass me some presents he mentioned he got me ages ago before they became Christmas presents instead.
He'd already told me beforehand he got me this fairy book (another one to add to my expanding fairy library!) and a 'something' (he wouldn't say what) from Cartier that AlcoJason and him bought for me together in London.
I snatched up the fairy book to study first >.<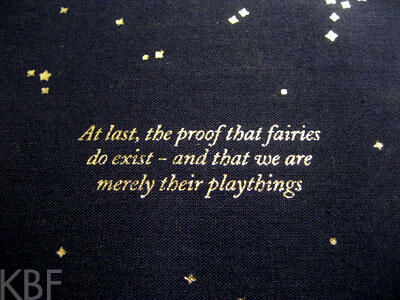 Flipping through the book in the car, i started reading out exciting fairy facts the author noted.
"Oh look! Wowww, ha ha see this fairy-catching device they had in the 1800s!…" i babbled excitedly.
"Er… maybe we should get back to the party?" he spoke up, after i showed no initiation to stop reading the book.
Then i looked into the Cartier box – three rings of gold, brass and silver entwined.
Thank you, guys

I've never had anything from Cartier before, it's my first, plus coming from the both of you, i sayang it alot.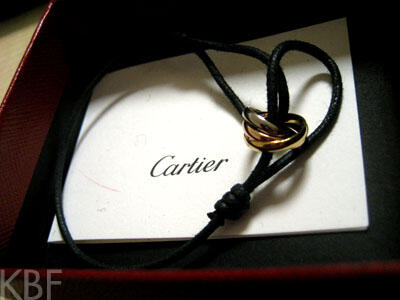 I showed it to Daddy when i got home, "See what Jason and Adam got me!"

He looked closer to study it, "Hmm. Why so small wan?"
Me:
Spoiling my thunder wei.
It's been hanging off this necklace Theodore Design sponsored me.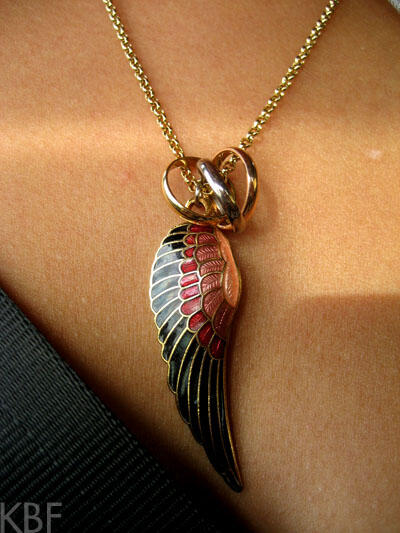 Sorry, the seatbelt's in the picture. I was waiting for QueenKanch to get into the car one day.
This necklace's from their Charmed Enticement collection which is imported from Mongolia with only two pieces per design (i wonder who's having the other one…).
It was my favourite piece in their store 'cos of the bit 'o red and black on the feather.
Gorgeous. I've been wearing it almost every day since i got it
You can see the others for yourself at 2201 Fashion Avenue, a department on the 2nd Floor at Gardens Midvalley, featuring the works of 24 local designers ranging from Amanda Brown, Khoon Hooi, Melinda Looi, Lester Lim, and Donna Chew to Jonathan Cheng, William Liew, Nazleen Noor and Von Jolly.
One of the purses they have caught my eye and conjured memories of a particular cartoon…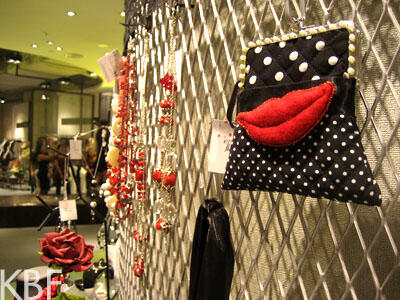 Remember them?!
The lips are exactly the same, kan!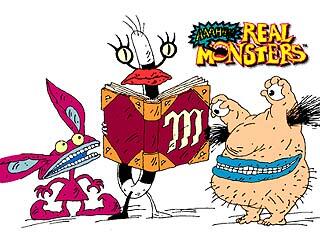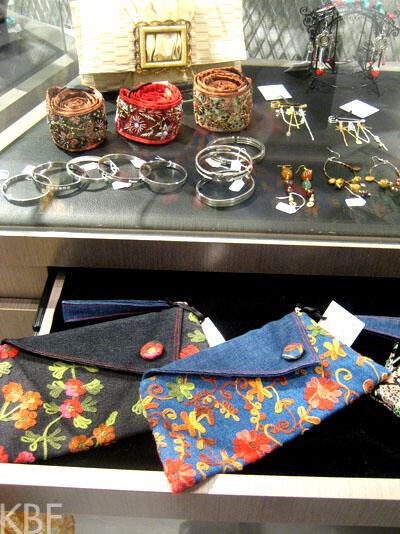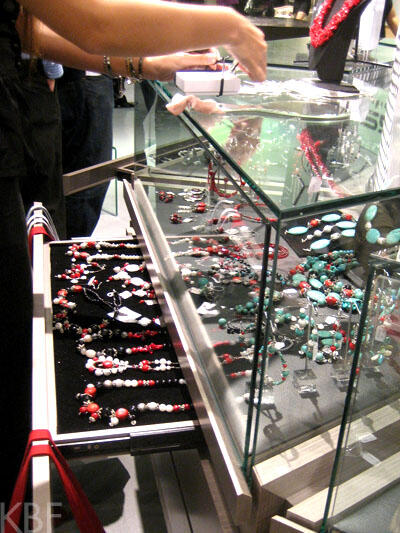 This is Wei Tieng, the lovely owner of Theodore, whom i met during the 2201 Fashion Avenue launch.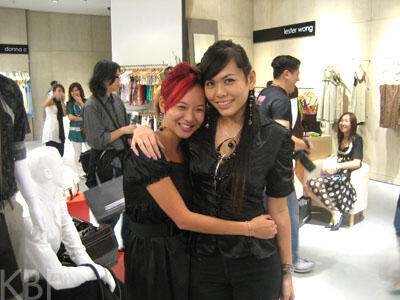 Yes. Bubbly makes me hug people i've just met.
Walking around the place…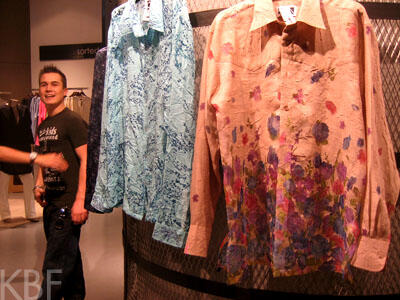 2201 Fashion Avenue is fantastic.
AlcoJason was just asking me, "Hey, where can i go buy stuff from the local designers before i go back?" and i immediately piped back, "Oh! I know this place that just opened which is PERFECT for you!"
Senangnya. Just throw the fellow there and kow tim.