Christmas really feels like its being celebrated for twelve days this year.
Every day has involved either a Christmas party (or two), family dinner or partying.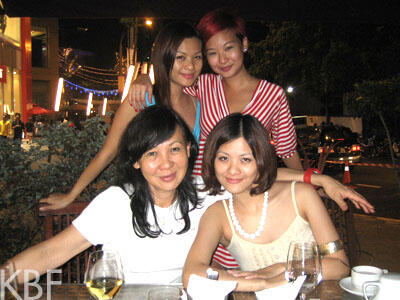 Taken at La Bodega Pavilion on Christmas Day
Next to me is my cousin JingHua; with her unidentical twin below me, JingHui; and next to her is my AuntyGerry.
AuntyGerry's back from London for two weeks so we've all been layaning her like mad.
I took her to twenty.one last night, drove back to Valencia and we both passed out on her bed.
Sounds so much like seven years ago when she used to drag me out drinking in London till we could barely walk home.
Introduced her to DM at twenty.one
"Why hasn't Mummy and Daddy met him yet?" she asked
"Because. It's still so new..!"
Then she invited him to two family dinners when i wasn't paying attention.
0_o
Poor fellow wasn't free for one and she loudly asked, "So, what is it that you're so busy with tomorrow? How important is she to you? How much do you like her?" to which he was like, "Er..."
0_o
I was slapping myself and cringing into my choc orange martini.
See, why pepper the poor fellow you're seeing with questions like this when you can have extroverted relatives do it for you.
Then because he can't make it, Dan from twenty.one happily offered himself as my date for the family dinner and even FB-ed me just now, "What time is our family dinner babe?!?"

My mum is cooking for the family dinner tonight and everything smells great.
I know from young that she doesn't want my help in the kitchen, former declarations being that i'm in her way and i can't do anything, so i'm just sitting at the pc blogging.
Tiba-tiba she calls from the kitchen, "Joyce Wong."
... When she calls me by my full name, either i'm in trouble, or she wants me to do something important.
"Yes?"
"Can you do something..."
"... Yes, what do you want me to do?"
"I've cooked everything, can you please help sort out the drinks for tonight?"
"Oh! Wine? Of course i can!" *starts plotting what drinks to buy*
Then i notice she's still standing there, "Not just wine. People have to drink other things also okay
 "
"... Oh >.< "