I know, this is damn long ago. Okay, a couple of weeks. I think.
0_o
I'm SO backdated on my event-blogging
>_<
Have yet to post up pictures from AhHoong + Steph + RudyLaFaber's birthdays, Juicy launch, Cynna annv., Marketplace launch, and others i can't remember.
KinkyPugKevin asked me to cheat and just put up one picture for each.
I'm thinking that's a better idea, to blog it faster and put up only a picture, rather then a couple of weeks late and many pictures. That's if, if i even get to it.
Wine Room Relaunch!
Wine Room on AHR refurbished recently – shifting their stage to a new partition.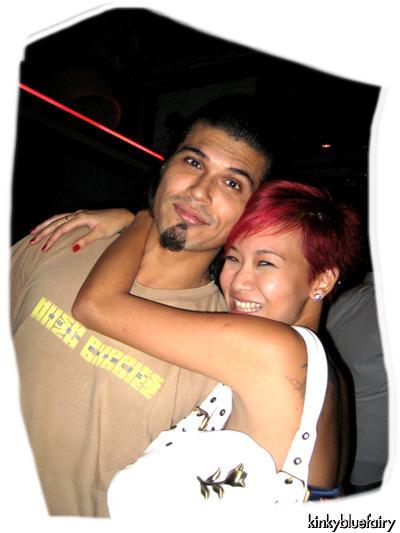 Usamah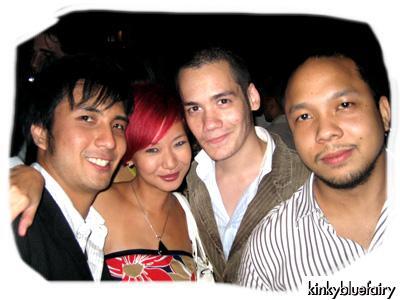 AndyPandy, me, AdamPoserPan, FaiTheMai
Oh yeah, the dresscode for the night was red.
I was getting ready thinking, "Shit… i don't have a red dress…"
Little Voice in Back of Head: SURE GOT. You have SO MANY CLOTHES you don't even know WHAT you have anymore!
Yeah, i forgot i had this red dress from the bunch i was selling
We just didn't shoot in the red one.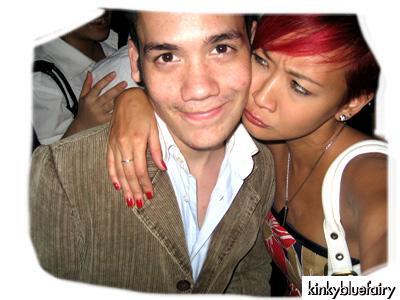 AdamPoserPan
We spoke on the phone this morning to catch up since he got back from London and since i was busy talking to someone else last night.
"I must apologize for James' dressing last night," he said.
"Why? What was he wearing?"
"This badass colourful shirt with stripes and things."
"Haha, i didn't notice."
"Well, he was going for the peacock theory, you know, where you wear something to stand out in a crowd to pull girls."
"Ha ha, then."
"I told him retards stand out as well."
I laughed so hard i woke up all proper after that.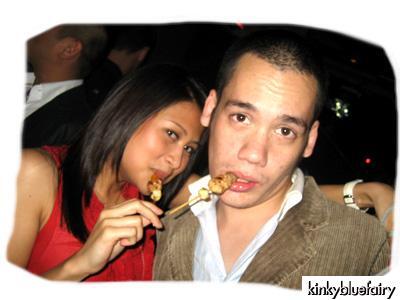 Azana was hungry so she was grabbing at the food like a maniac when it went around.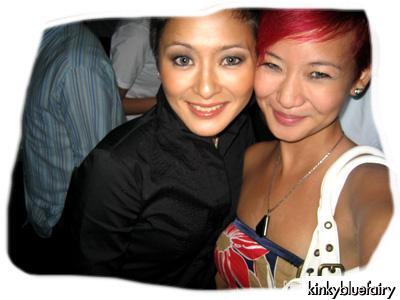 MadcapperSa performed that night too, her album's coming out soon!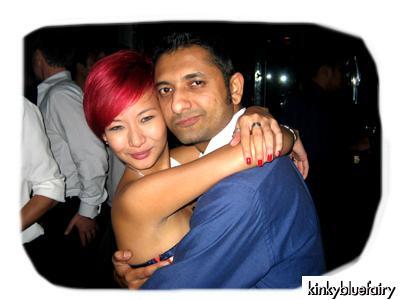 Biresh is kinda vain about his nose.
I mean, i never really took notice about it before till he brought it up on FB.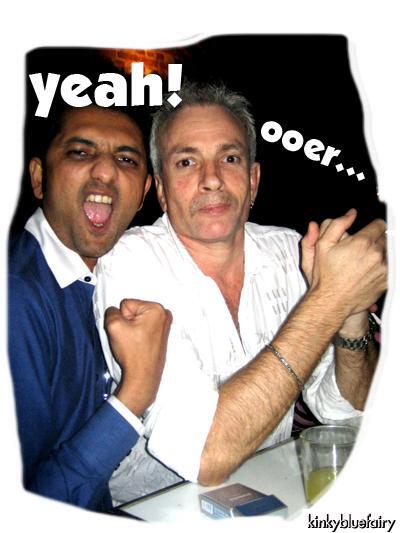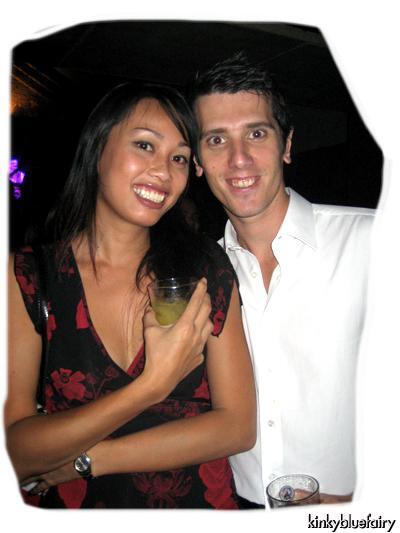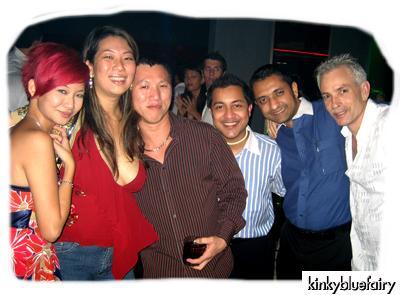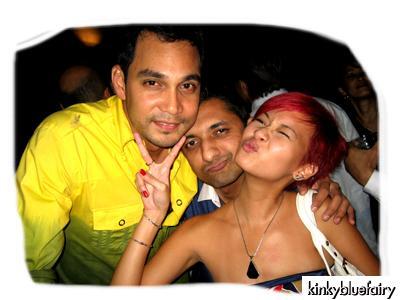 Hans, Biresh + me.
I'm so not maintain.
All the following pictures below are taken by Andy Kho.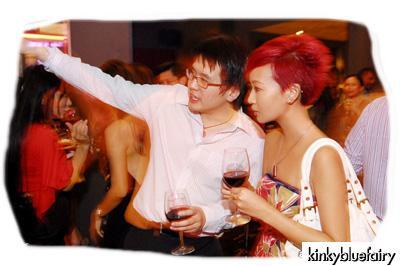 I invited Timothy Teh from Nuffnang to come with me to the event cos we've always just liased on the phone, MSN and email but i had never met the guy.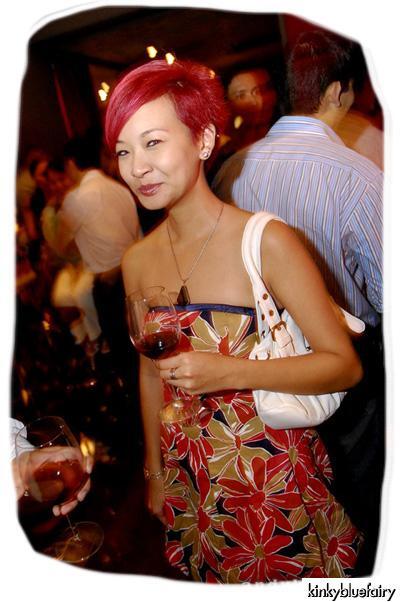 I swear AndyKho can compile a huge collection of pictures with me holding glasses.
At *every* event he's shooting, he'll bloody come and take a picture of me holding a drink.
Sometimes two, to which i'd yell in indignation.
Was boogie-ing with one of the dancers from MadcapperSa's video shoot that day.
Farah told me they oiled their half-naked bodies for the shoot in Welwet, i saw the pics on Jo's FB already… WAH damn cun okay
I don't remember this -_-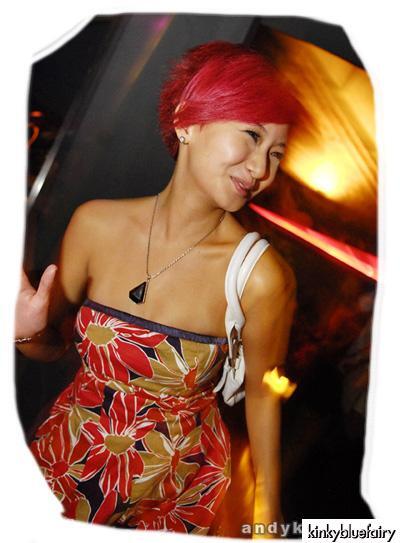 And i definitely don't remember releasing such aggro at my Dopod for going screwy on me. 
I'm Gonna Swim!Swim With The Dolphins!
I'm going to Bali this Sunday

For four days!
Gonna swim with the dolphins up north, dive, buy dresses, and maybe visit the open graveyard at Kintamani Azuan told me about.
I've used up so much of my annual leave that i only have three days left for December… which isn't enough! Have already asked Vijen aka New Team Leader that i want to apply for no-pay leave in December.
My BELOVED AlcoJason in London is making his annual trip home and is going to KK to dive and climb Mt. Kinabalu and i wanna go too!
I can go along for the dives while he takes his license.
And i told him i don't mind climbing the mountain again since my camera batteries mati-ed on me when i reached the peak last time -_-
And maybe, maybe, this time the faires won't hide from me!
There's The Grocery List
And There's the Hump List

Besides AdamPoserPan, i was on the phone with one of my girlfriends.
The conversation shifted from recent incidents, to people in our lives now, to the person she's seeing.
"The sex is okay, it's getting better."
"That's good wut."
"Yeah… just that it's sort of… routine y'know?"
"Well, you and i know it doesn't matter when you have so much feelings for the person, you're willing to go with that routine."
"Yeah, it's just that it was different with —-, my ex boyfriend, last time. We use to do it everywhere!"
"Walau… what do you mean everywhere?!"
"In all the clubs, we did it on the Row when it first opened, The Loft, Bar Savanh, of course, then we broke up so we haven't done it in any of the new ones."
"Oi, what is this. A checklist is it!?"