Peter Pan The Musical
 
I'm so busy and it's depressing i have to wake up early on a rainy Saturday morning to do work! 
Rush blogging this now.
Went for the opening of Peter Pan The Musical @ Istana Budaya last night.
I thought i'd be late as i had so much work i HAD to finish some before going out.
Incidentally, i wore this fairy necklace IceCalvin bought me while he was sourcing for a shoot, and a lace-trimmed fairy-like dress i got from Bali early this year.
So i felt soddof cheesie.
But the musical was fantastic!
They're obviously more focused on being dancers, so their singing isn't terribly flawless.
I was SO HAPPY WATCHING IT.
I was so happy (i really didn't expect this), i actually teared during the part they were flying to Neverland.
>_<
Never would i have imagined i would cry with happiness watching Peter Pan

You know like how during some musicals, there'd be a few parts where it's a bit draggy?
Peter Pan wasn't like that, thank god!
Thinking i was being bias, i asked QueenKanch, "Well i thought so, but is it just me cos i'm being bias?"
She said probably due to the fact it's a musical for kids as well, that's why it has to be so constantly entertaining.
Their singing, dancing and allover mood was so infectious, i think the last time i experienced such a happy clappy musical was Mamma Mia.
Some of the staff were giving out Peter Pan balloons as we walked out of the hall after the show.
Oh! Peter Pan ballooon!I must have!
I want!!!
I bounded up to a malay lady, "Can i have a balloon please?"
"No." She stared at me, "They're only for kids."
0_o…
I couldn't even move. I stoned there as QueenKanch urged me along.
Only for kids?
I felt like the white bunny in the old Trix ads.
Where he tries to get the Trix, and the kids go, "Trix are for kids."
Poor bunny! Whoever said the bunny wasn't allowed Trix?
And whoever said adults aren't allowed balloons?!
It's discrimination!
I beefed about the Peter Pan balloon all the way to the car in between my bouts of joy of watching it.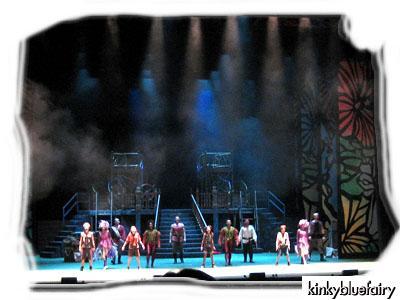 Went to TAG at the Loft, Zouk after that and it was SO crowded i headed off to Wabisabi instead.
NickIsTaller wanted to pick up his girlfriend and i said i'd stay in Wabi if Odin was there.
Odin was there, ha ha.
Wabi to him is like Somo to me.
TattleShantini, Willie, AhHoong and LicketyLicia were there too.
AhHoong and LicketyLicia damn cannot make it.
They tried to make me drink, to which i took a few sips and AhHoong went, "What is this?!"
LL: I moved!
Me: You moved to where?
LL: I moved la!
Me: Yes… to where la?
LL: Kinkybluefairy dot net!
Me: … you mean *i* moved or *you* moved?
LL: *I* moved! You moved so i moved also! We move together from Taman Tun la! Hahaha!!!
I couldn't stop laughing at her.
Damn 7 jiao tut wei.
Then WabiColin and i started bantering non-stop.
I can't remember everything we said, but it was pretty stupid till Odin slammed himself against the chalkboard laughing.
Ok back to work.
Tonight i'll be going for a black tie Carat Club dinner with RingoCheesie; then i'm dragging her for Junk + Heineken's Impulse at Terrace Bar, Zouk; then i'll try persuading her along with TattleShan and i for Twentyone.
I haven't told her yet.
Maybe she'll read about it here first ha ha!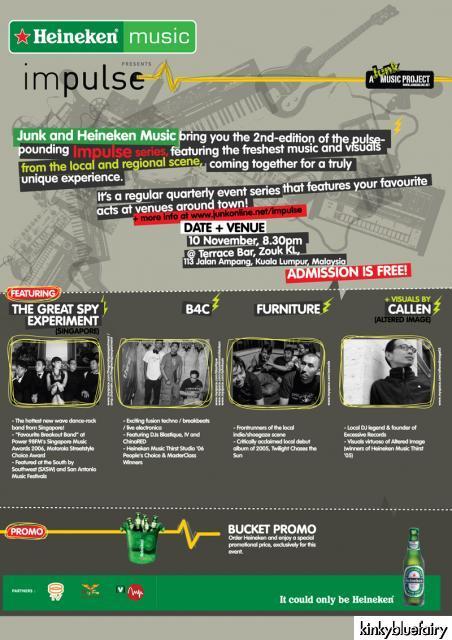 Ok work.
I haven't packed for Bali yet -_-
Standard.