advertorial 
Since starting their series of Heineken DJ Quest and Thirst Studio competitions, i've been more involved with the brand due to work – writing preview and reviews on their events for KLue, and taking over Fiona Lim aka FionaMalibu in shooting the finalists at the Heineken Studio when she couldn't make it for a day.
This month, they invited me to go for the launch of their new Heineken Served Extra Cold beer and just before it, i received a package.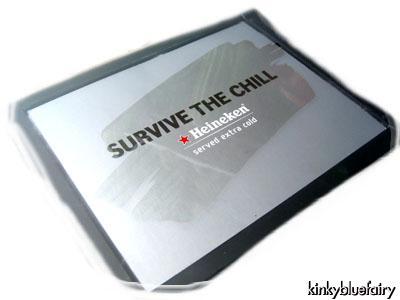 I love the cover of the box, it's similar to the ads i admired before on the back cover of some mags.
It's a mix of glossy and matte, projecting the feel as if the cover's icy cold and you'd wiped your hand over it.
Cool kan?

Inside the box was a grey and white scarf, i guess, to prepare us for the event.
Someone told me beforehand that they were going to lower the temperature in Velvet for it.
Earlier that day, i went for lunch with GarfieldChak and asked whether he wanted to go for it (yeah i love inviting people for events with me last minute cos it really depends on my mood on who i feel like hanging out with)
"Oh i'm going for it already, they sent me the invite," he said casually, while zipping down the Penchala Link in his little black convertible (Sorry Chak, i don't even know what car you drive haha! Don't kill me).
"Ah! Okay, good, then i can ask someone else. They delivered me this scarf thing this morning okay. At 10am! On my off day… can die."
"Oh yeah they sent it to me too."
"You? But why?" i quickly inserted, sneaking a glance at him to see his reaction at my naughtiness.
"Oh, cos… (fellow so blur, took him a while to digest what i just said)... what the fuck! I'm not important is it now! I'm semi-famous also okay! Cos i took part in the contest la!"
I laughed damn hard, thinking he was going to chuck me out of his car.
"Kidding la, kidding! Don't so emo!"
GarfieldChak's lead singer in Superbar and they were one of the finalists for Heineken Thirst Studio last year.
So la di da, IceCalvin was supposed to come with me, and KinkyPugKevin was supposed to go with the Freeform team and meet me there.
Ended up both bailed cos one had to work and the latter was sick.
So i was thinking, "Who likes beer, and can socialise without me having to babysit them while i do my thing..?"

AzwinAndy came into mind.
Plus the fellow loves his beer.
Actually… he loves any alcohol la -_-
So happened the timing was perfect cos he was having a meeting on Jalan Ampang so i zipped over meet him outside Zouk.
The Heineken people were quite smart in the sense that they started the event outside with beer and grub at Terrace Bar, before ushering everyone in just before the launch starts.
Then inside Velvet, there's no Heineken till the launch gambit is over, so everyone has to pay attention.
0_o
We, okay i, bounded in to see Heineken bottles frozen in ice.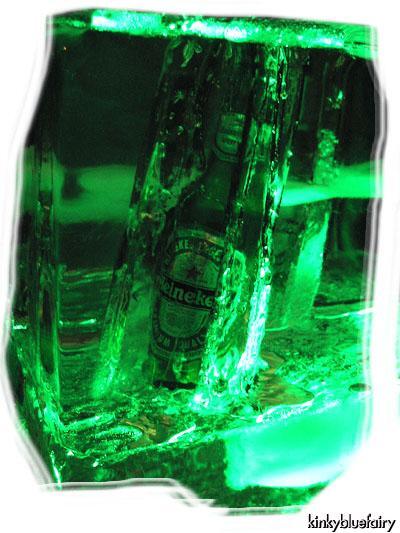 Quite cool kan?
I couldn't help licking the ice.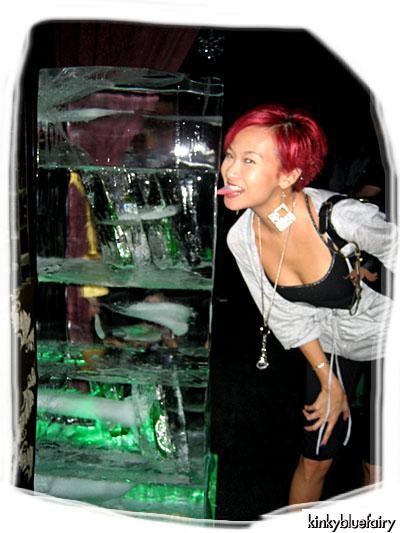 Later on DreamerCyn was like, "Do you know HOW MANY people touched that ice!"
Me: I… didn't think of it then >_< Bleargh forget about it!
Besides, the alcohol from Heineken will kill the germs, kan?
>_<
GarfieldChak had a go too.
Only because i made him, heh.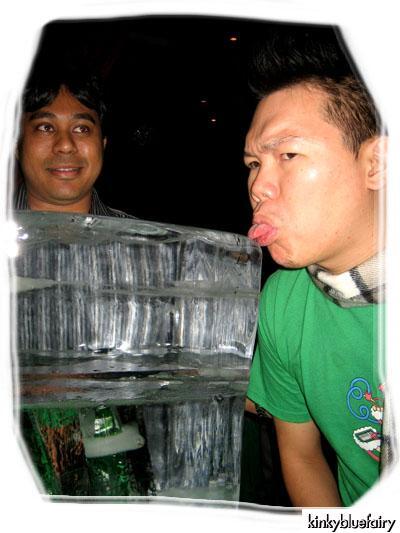 Both Reubens were there. Again.
Damn weird la, it's like i don't usually see ReubenSamuel around, then suddenly i'm bumping into him almost every day!
I even bumped into him in the Westin lift with his parents the other night!
As for ReubenT…
"What are you still doing here?! I thought you're supposed to go back to Jakarta!"
He's from Perth and Jakarta, and was only in KL cos ReubenSamuel aka Blastique was spinning at Global Gathering.
"I missed my flight…"
"Didn't you just miss it the other day…"
"I… missed it again…"
"Fail la you."
The fellow missed his flight twice because he was partying too hard.
Champion.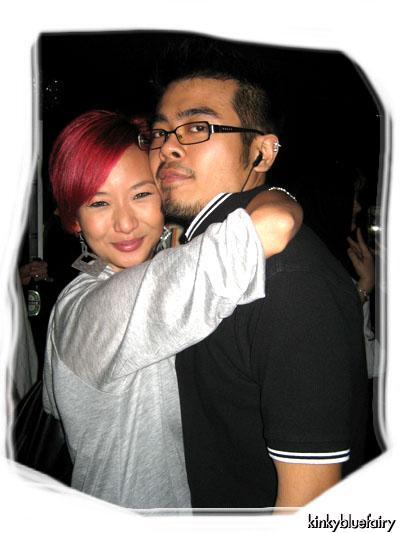 My sungguh bitchy DoorBitchIvan.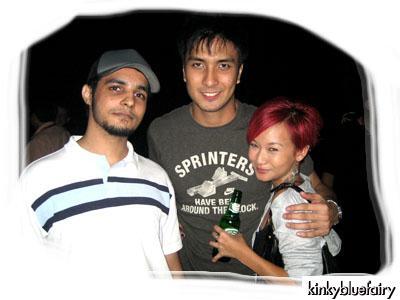 Vinder, AzwinAndy + moi
Vinder is AzwinAndy's new band manager.
Estranged la. Haijo.
I haven't seen AA for a long time… so we huddled in a corner rather antisocially and whispered secrets like girls.
AA's my girlfriend, didn't you know.
No wait. Zedeck's my girlfriend HAHA!
Andy's… i suddenly thought of Butt Buddy cos that's what AdamPoserPan calls him -_-
I was starving cos i hadn't had dinner yet and was nabbing at all the food going around me, especially the chicken drumlets and potato wedges. Totally beer grub!
Oh yeah, then i bumped into this waiter in Velvet whom i haven't seen for a year.
I squinted while trying to remember his name, "… Max!"
"How did you know my name?!"
"I don't know… i remember from last time when Jason was back in December and you were helping us with the drinks…"
How selective is my memory.
That i can remember his name but i can't others whom i meet week in and week out at events.
>_<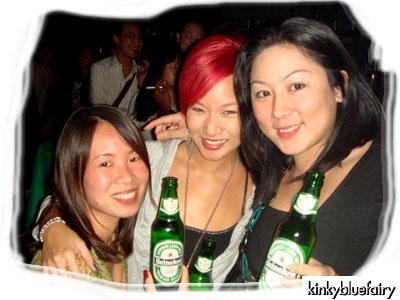 BubblesAmanda, JoyceTheFairy, DreamerCyn
Congrats to you guys and your company for winning Best Agency of the Year at the recent Kancil awards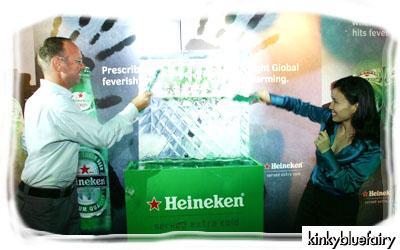 Mark Jenner, Marketing Director of GAB and Swee Leng, Senior Marketing Manager of GAB, breaking the ice during the launch.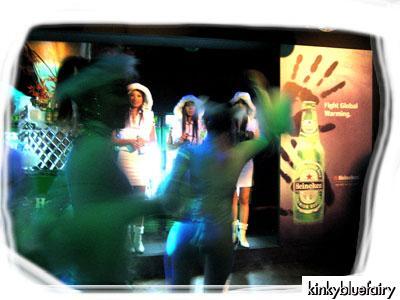 After the breaking of the ice, waiters poured out into the area putting buckets and buckets of the new Heineken Served Extra Cold everywhere.
It's really nice, not as bitter and served at 0-3 degrees Celsius.
Only thing is I can't hold it for very long cos it freezes my hand like crazy.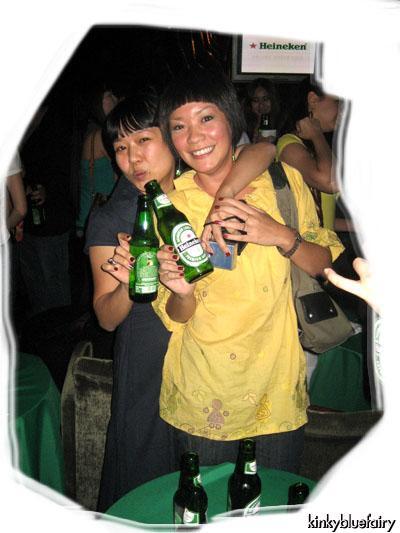 Cheryl and SueThePixieI pulled a Cheryl on Friday cos… i couldn't find the right one. (Our group will know what i'm jabbering about)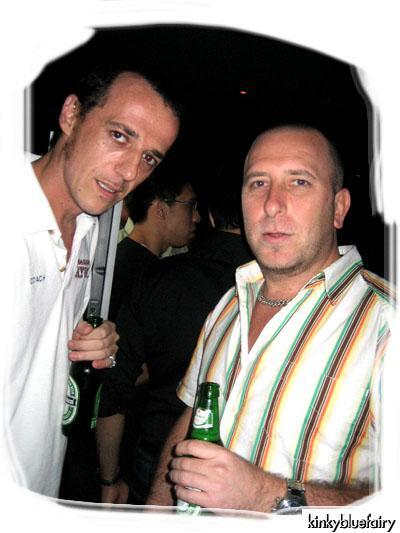 Cynna DJs – Rob + Glynn
Glynn said he'll properly take me around Bali another day cos he goes back there every month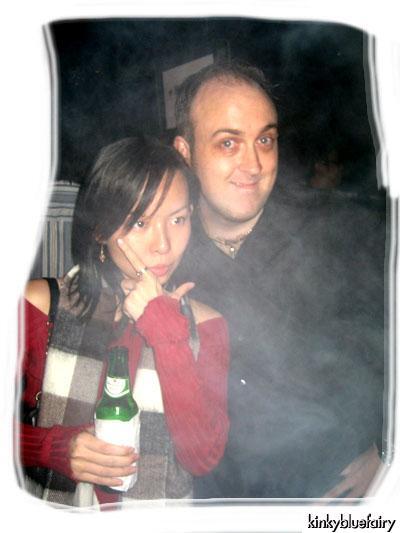 FireangelEelaine + GarethST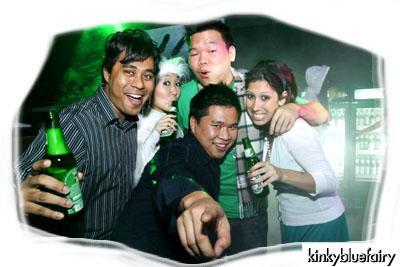 Suren, Desmond Kiu from Mindshare and GarfieldChak looking awfully red.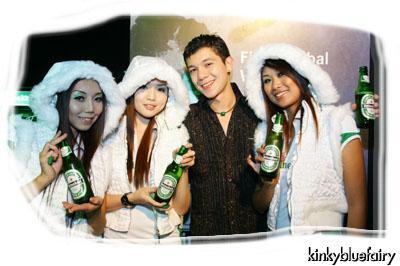 WillQuah and the Heinebunnies (sounds a bit salah. Mm.)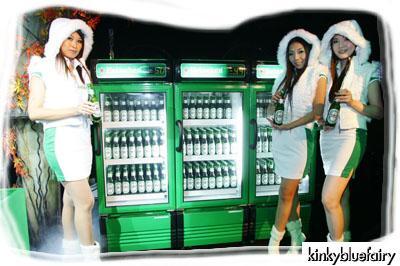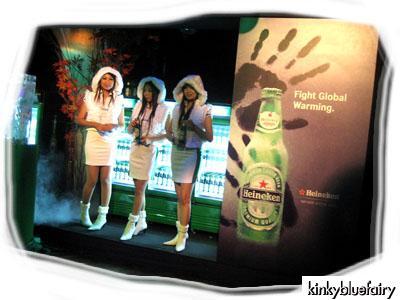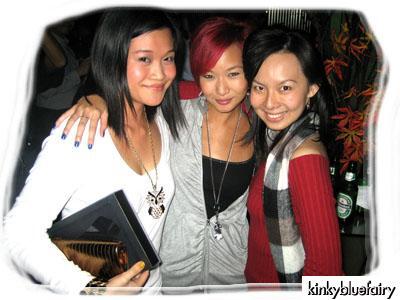 KimberlyCun, me, Fireangel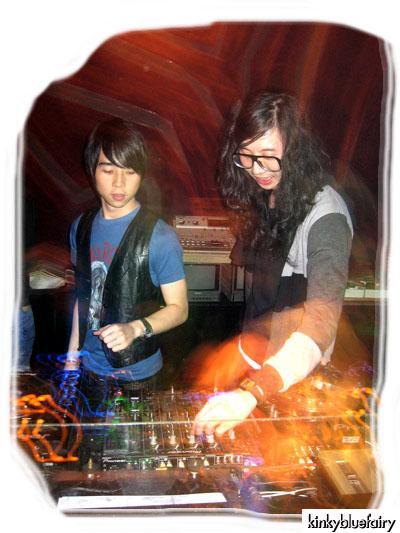 Blink + AhXu were spinning, yeah!
I think i know almost every song on their playlist by heart already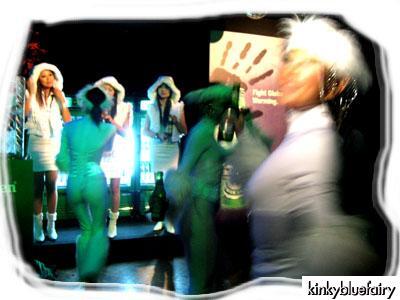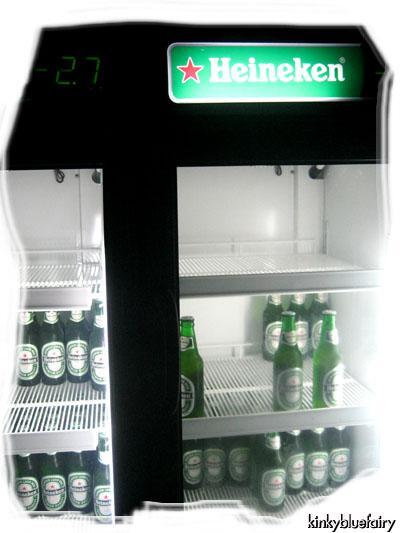 Damn fast right the fridge got emptied out…
I walked around Velvet looking for SarChan.
Kept on getting distracted from my search by bumping into former colleagues (like the infamous Spike Yong) and chatting to new people.
Some clumsy ass dropped a full bottle of Heineken on my ankle (which was damn painful) and baptised the insides of both my silver Aldos with beer (which was even more painful).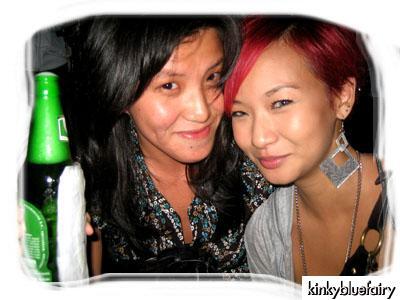 Finally found SarChan.
KinkyPugKevin gave her the nickname SarChan and she said it's getting abit too much when i said i tried msging her on FB by typing 'Sarchan' instead of 'Sarah.'
The launch was ending and both Reubens wanted to continue drinking elsewhere, but more chilled out instead of party-party.
0_o
So i suggested Somo
 since he's never been there and of course he has to go to one of the best bars in town before flying back!
I had my regulatory Guinness at Somo and the boys had… Heineken again.
0_o
I swear i had no part to play in this okay.
I called Gary to come down from his apartment and intro-ed him to Reubens
Then Mark joined as well
Then James too
Suddenly one big gang there… talking about… football.
-_- Ish.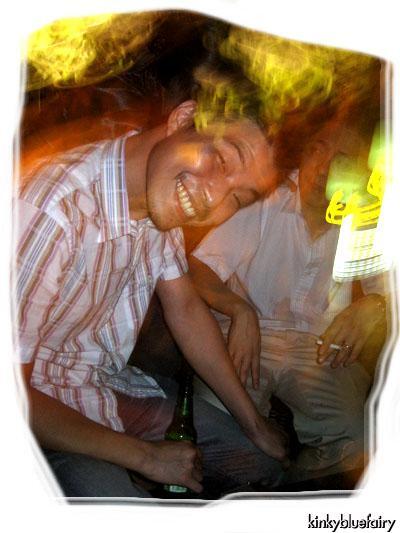 Gary was in Melbourne for the longest time so RT and him bonded on that.
I have this hilarious video of RT attempting to sing the Australian national anthem with the others, tried loading it unto YouTube but the connection is so slow i got fed up after two failures.
Damn lucky. For them.
Related post: Heineken Mouse