Holed Up

I spent the whole of Sunday and Monday holed up in my house recovering from fever, a hacking cough and over-socialising.
Got a telling off from a few friends that i was overworking it last week but see! I'm fine now!

Went to LaughingLoga's surprise birthday party last week and i still repeat that with a whole bunch of Indians, the jokes are really damn 7 stupid laugh can die.
LaughingLoga actually found out about the surprise

Anon Indian Friend: How did you find out?
LaughingLoga: I gave her the silent treatment.
Me: Wah, damn kesian. Kononnya actually throwing party for you!
Anon Indian Friend: Damn. I wish mine would give me the silent treatment.
Me: HAHAHA!!!

On another note, i did two hills of laundry and hung them out (even tho it was cloudy) because i wanted to use the dryer as little as possible.
Almost stepped on something smack in the middle of the garden…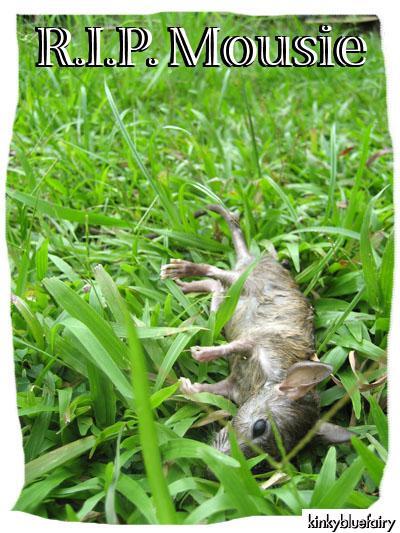 Couldn't help taking a picture.
I've taken of squashed squirrels and other dead animals before, but not a mouse.
Then i had to pick it up (with newspapers of course!!!) and throw it away.
But even in my brave state, i was still quite grossed out with the whole rubbery feel of it all.